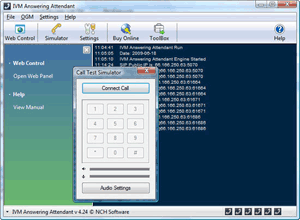 IVM is a telephone answering machine, voice mail, call attendant, and interactive voice response (ivr) program for a Windows computer with voice modem or professional telephony line device. Mainly they are used for management of telephone answering, voice mail recording, call attendant answering, auto dialing, call logs, and interactive voice response (IVR) system for PC Windows. The software installed on your PC answer phone calls through professional full duplex telephony board devices or directly a VoIP service.
The call answering software plays the following roles:
voice mail,
call attendant,
info-line,
audio text or autodial solution for small to medium businesses.
Typical application utilization:
Voicemail (from a single message to hundreds of voice mailboxes);

Call attendant (using the menu call transfer features) to transfer and direct calls;

Telephone information lines or AudioText type systems;
In-coming caller ID logger or display; Automated telephone order taking;

Automated telephone surveys (using the number entry features linked to a database);

Credit card telephone account payment ( HOT!);

Automated outbound call dial & message systems;

Dial in computer control or information for interactive response(dial in to test security alarm or to restart server).
Main features include:
Multiple telephone line support (1 - 64 lines simultaneously);
Visual display for menu setup with drag and drop functionality;
Caller ID logging and optional on-screen caller ID flash display;
Call key select menus and ability for caller to enter numbers;
Automatic message forward by e-mail or upload to Internet;
Remote Access including toll-saver; full support for VoIP connections using the SIP protocol;
Axon IP PBX auto detection when installed on the same server;
Save in-coming messages as WAV files; automatic hours feature;
Unlimited (selectable) out-going messages and menus;
Call simulator to test systems offline; Automated outbound calls and messages;
Unlimited voice mail boxes; Extended message play on key press including support for WAV, MP3 and a number of other formats;
Text-to-Speech voice synthesis as an alternative to recording or importing WAV or MP3 files;
Ability to open files or run other software to process data or report information; Free professionally voiced greetings.
System Requirement
Works on Windows 8, 7, Vista and Windows XP
Works on 64bit Windows
Also Works on Windows 98/Me, Windows 2000
Download IVM Telephone Attendant Software Free Trial
Download the free trial IVM telephone attendant software today. You activate the software directly from the trial version.